John Brown
New Paintings
Olga Korper Gallery
17 Morrow Ave.,
Toronto
(until December 19th, 2015)
Untitled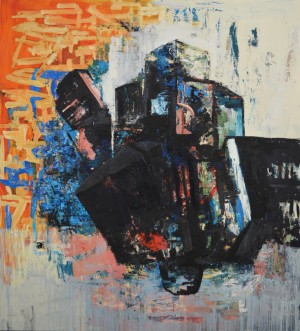 "The transitoriness of things is essential to their physical being, and not at all sad in itself; it becomes sad by virtue of a sentimental illusion, which makes us imagine that they want to endure, and that their end is always untimely; but in a healthy nature it is not so."  (George Santayana, "A Long Way Round to Nirvana," p. 59). Look, the column is separating and soon it will collapse.  No structure is so perfectly crystalline and internally stable that it can withstand time. Painting is not sentimental because it does not look back to what was, but makes a claim for eternity.  The painting that you are looking at is always now.  However, it too, being material, cannot last and must go under.  The column is separating and will bring the whole edifice down.  But not yet.
Untitled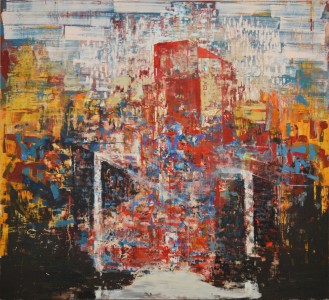 "At this stage you must admit that whatever is seen to be sentient is nevertheless composed of atoms that are insentient.  The phenomena open to our observation do not contradict this conclusion or conflict with it.  Rather, they lead us by the hand and compel us to  believe that the animate is born, as I maintain, of the insentient."(Lucretius, On the Nature of the Universe," p. 59). There, right at the centre, do you see it?  Is that not a face emerging from the swirl of brush strokes, distinguishing itself from the block of material in the background?  Out of the universal swirl comes order.  The paint is affixed to the surface, it does not move, and yet it expresses dynamism and development, emergent coherence, structure, meaning, life.
Windsor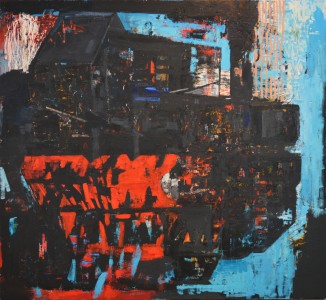 "Only art restores the dimension of the senses to an encounter … Art, in all its forms, is a great reflection on the event as such.  A great painting is the capture by its own means of something that cannot be reduced to what it displays."  (Alain Badiou, In Praise of Love, p. 78).  One wants to know, one demands, "what is that a picture of?"  But no painting is a picture of anything, it is a picture, a creation; knowing it, "understanding"  it, is not tantamount to reducing it to its origins "in the real world." It is not a mystery to be decoded but a world to be entered into on its own term (terms which always change)  The painting is its own real world, re-invented every time it stops one in one's tracks and forces one to look at it.  There is nothing hidden; the painting is the surface and the meaning is there, if anywhere.
Wrong Place Wrong Time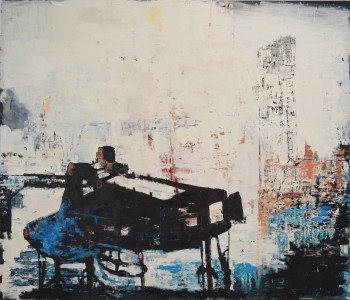 Aesthetic form is not opposed to content … in the work of art, form becomes content and vice versa."  (Herbert Marcuse, The Aesthetic Dimension, p. 41).  The problem with all formalisms is that they are one-sided; products of prodigious cleverness or even genius, they nevertheless lack the reciprocity between form and content that truly arresting art possesses.  There is no versa (content becoming form) but only vice (form becoming content).  In formalism there is experiment and transgression of boundaries, and thus creativity and new openings, but the connection to ultimate problems is lost.  Attention is attracted, but not held for long. The arresting work is the unity of form and content established by the sui generis rule by which each work is composed.  The enduring work of art takes us somewhere else, down to the ground, to the real problems.
Green Figure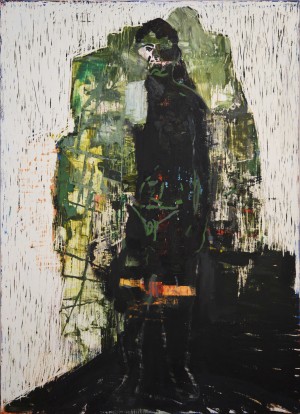 "It is not the artist's job to restore a supposed "reality" that the search for knowledge, techniques, and wealth never stops destroying … The spirit of the times is definitely not geared to what is pleasing, and the task of art remains that of the immanent sublime, that of alluding to an unpresentable which has nothing edifying about it."  (Jean-Francois Lyotard, "Representation, Presentation, Unpresentable," p. 128).  Hence, what you see on first glance must be resisted– a dark figure emerging from a chrysalis, scowling, menacing.  However, seeing the unpresentable is also not a matter of treating the painted image as a symbol, a reference to something else.  Always, it is a matter of seeing the thing itself, the painted surface as a complete whole which pictures that which photography or the literal eye cannot record– the act, the art, of picturing.
Grimm 96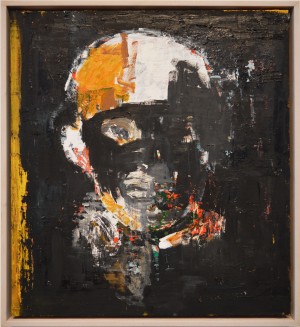 ""What distinguishes, among other things, man from the beasts is this capacity for abstraction.  All our forms of communication are are abstractions from the whole context of reality.  Moreover, one is able to chose on one's own part the degree of abstraction one wants to be involved in."  (Robert Motherwell, "On The Humanism of Abstraction." p. 250).  That capacity distinguishes us, yes, but also, and moreso, the singularity of our faces.  All painting involves abstraction, but it is not all, thereby, "abstract."   Then again, not is all painting that is not abstract is "representational."  It is picturing, an act, not a classification.  The painting abstracts from the details of the face what is essential to the picturing of a human face– how little, indeed, is needed.  Look-  here is what a face is, concentrate on it.
Imaginary Portrait of Roy Orbison Singing Crying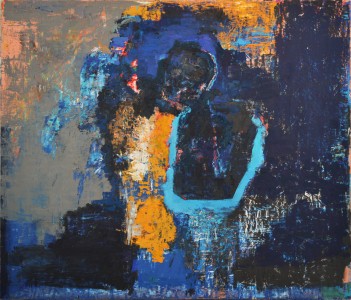 "[The artist] must give the void its colours." (Albert Camus, The Myth of Sisyphus, p. 84). And its humour.  Neither the dignity of the human person, nor the dignity of the human body, not the dignity of human creations elevate us above the pleasure of giving funny names to things. To not be able to laugh at others and oneself in turn is inhuman. If one had to choose, it would be better to be the laughing animal than the rational animal.  The void must be coloured and it must echo with our laughter.   From void to void our lives move in tragicomedy.  We are able to bare the terror of the idea of emptiness because there is music and laughter.
Yellow Head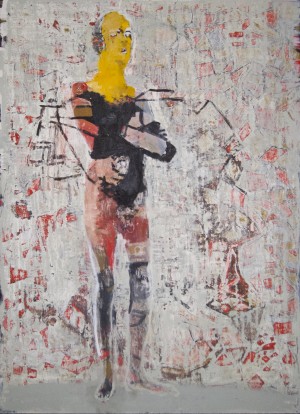 "When our first encounter with some object surprises us and we find it novel, or very different from what we formerly knew or from what we supposed it ought to be, this causes us to wonder and to be astonished at it.  Since all this may happen before we know whether or not the object is beneficial to us, I regard wonder as the first of all the passions."  (Rene Descartes, The Passions of the Soul, p. 350). In a whole universe full of objects of wonder what is more wonderous than we ourselves?  Our motivations are endlessly opaque even to our own reflections, our bodies are beautiful in uncountably multiple ways, our senses and minds are constantly open to what may present itself.  Our wonder at ourselves constantly engenders new ways to look, picture, sound, relate, build and interpret, all in the service of providing answers to questions that must always be posed anew.